Rho 162 TS Roll-to-Roll/Flatbed UV Inkjet-Printer For Traffic Signs Application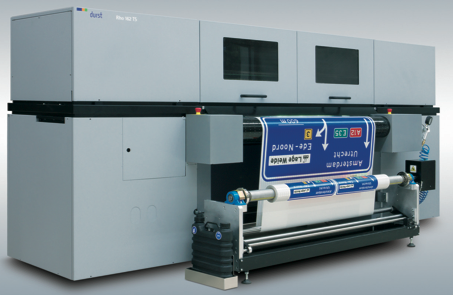 The Rho 162 TS is a hybrid (roll to roll/flatbed) inkjet printer designed for traffic signs applications using specifically developed UV inks by 3M. Whether you print directly onto 3M High Intensity Prismatic Sheeting HIP 3930 and 3M Diamond Grade Cubed Sheeting DG3 4090 roll media or on steel sheets laminated by these media, the printer offers high quality and flexibility, achieving certified, highly reflective traffic signs owing to Durst`s unique media surface treatment system. Designed for the use of 3M UV Ink Series 8800, the Rho 162 TS can print Traffic Signs with a durability of 12 years MCS warranty, while meeting key requirements in terms of retro-reflectivity and color boxes as per the Traffic Signs Regulations, reducing signifi- cantly cycle time and production workflow steps.
Rho 162TS key features
---
Advantages
Direct Digital UV Printing System for producing long lasting Highway Traffic Signs & general traffic signs
Roll-to-roll printing or direct printing on laminated sheets
Designed for printing on 3M High Intensity Prismatic Sheeting HIP 3930 and 3M Diamond Grade Cubed Sheeting DG3 4090 media types and 3M Engineer Grade 3290I Sheeting
Meets the European Traffic Signs Standard by 3M UV 8800 Ink Series meeting European Traffic Signs Regulations
12 years 3M MCS warranty – durability, reflectivity, color boxes
Offers digital workflow for economical printing of one off/low quantity special traffic signs
Easy operation with Durst`s proprietary software based on Linux
High reliable 24/7 printing
Fast media change with minimum media waste
Maximum printing width 157.5 cm (62 in.)
Maximum printing length – limited by roll length
Media thickness boards – 30 mm (1,2 in.)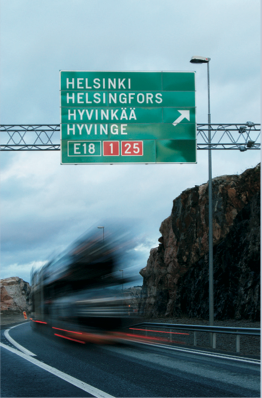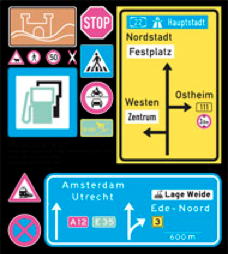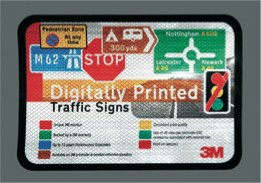 ---
Technical Data
General specifications Power Supply:

120/208 VAC +/- ,10%, 3 phase + PE, 12 KVA, 60/50 Hz, max. 32 A per phase 230/400 VAC +/-10%, 3 phase + N + PE, 50 Hz, 15 KVA, max. 25 A per phase

Power Consumption:
Maximum: 15 KVA, average 8 KVA

Dimension:
Wdith: approx. 380 cm (152 in.) Length: 201 cm (79 in.) Height: 173 cm (70 in.)

Space requirement:
Approx. 6 x 6 m (20 x 20 ft)

Weight:
Approx. 2000 kg (4400 lb)

Safety Standards:
according to European Maschine Directive 26/2009

Productivity:
12 sq.mtr. (129 sq.ft) in pass 3

Front end workstation:
HP Linux Workstation

Operating System:
Pre-installed RedHat Enterprise Linux WS EM64T

Monitor:
TFT Monitor

Network Interface:
Ethernet 100/1000 Mbit
Printing specifications:

Printing system:
Patented Durst Roll to Roll trans- port system with Quadro Array Technology Patented Durst media surface treatment system

Resolution:
400 x 600 dpi (addressable) 800 x 1200 apparent

Colors:
CRYK

Printing modes:
Color, CMYK Workflow, Backlit, Glossy, Matte

Inks:
3M UV 8800 series, designed to match the traffic sign color boxes

Ink supply:
Continuous ink supply with 10-litre ink reservoirs, refillable during operation for large print processes. Refill ink in 5-litre non-returnable containers, easy disposal in collapsed condition, avoiding pollution to the machine and the environment.

Software/RIP:
Durst Rho user software, based on Linux RIP Workstation with Caldera CopyRip
Printing specifications Media types:
3M High Intensity Prismatic Sheeting HIP 3930
3M Diamond Grade Cubed Sheeting DG3 4090
3M Engineer Grade 3290I Sheeting
Maximum printing width:
Up to 1575 mm (62 in.) with border and no edge to edge option.
Media weight:
Max. 150 kg (330 lb.) with pneumatic axles for the media feeding and take-up unit, Rho 162 TS Axle Pneu 76, 74 to 82 mm (2.9 to 3.2 in.)
Max. medium thickness:
Roll-to-roll version: 0,15 mm up to 2,5 mm
Flatbed version(optional): up to 30 mm (1,2 in.)
Location requirements Maximum height:
2,400 m (8,000 ft) above sea level
Temperature range:
+15 °C to +30 °C (+59°F to 86°F), non-condensing
Relative air humidity:
25 - 80 %, non-condensing
Antonio verdejo - [email protected]

April 22, 2023

Technical Support: Agfa, Konica, Kis, Doli

Hola necesito software de la kis 1710 y discos de la aplicación gracias.

joseph - [email protected]

April 14, 2023

Technical Support: Fuji

hi i have frontier 375....for a period of one month ..it has not asked to replace the catridge..the reprensher is now weak...please assit with technical advice...

Carlos - [email protected]

April 02, 2023

Technical Support: Noritsu

What driver you need, I have different softwares and manuals for Noritsu and Fuji Minilabs
We buy, sell, refurbish and service different brands of such as: