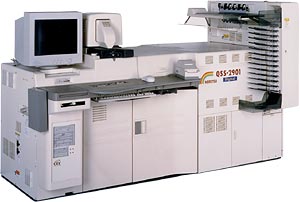 QSS 2901
Plasticity of the so obtained image is the same as for optical printing, in principle, inaccessible to any of the laser sources of exposure.
As a source of information laboratory receives information from any digital media: memory cards for digital cameras with the magneto-optics, FD, ZIP and CD-ROM drive. It is also possible with traditional print media: slides, b / w and color film formats: 110, 135, 120, 220, APS.
Features of Noritsu minilab QSS-2901
High resolution
The printer is equipped with a device on the basis of exposing MLVA (matrix of light micro-shutters). This technology allows you to make prints up to 305 mm in width with a resolution of 400 dots per inch.
High performance
Application of high-speed scanner, and a halogen lamp light source for MLVA achieves skrorosti Exhibits 1 d.ym per second (about 1,480 prints 9х13 per hour).
Compact
Film scanner, a digital station, printer and a wet part of the collection in a compact body and occupy only 2.24 m2.
User-friendly interface
The display shows the currently involved in I / O devices. Just look at the main menu, you will see all the information about the executable laboratory order.
Universal negative mask
QSS-2901 is equipped with an automatic mask that works with conventional film, and the format of APS (negative or slide). Changing the lens scanner at the same time be made simply by turning the handle.
Embedded Help
In the computer program instruction set minilab operator. If you receive an error message, just click the "Help" and appears on the screen step by step instructions for troubleshooting.
Printing from digital media
The procedure for printing from digital media is similar to printing from scanned film.
Paper feed system of two stores and avtompticheskogo replenishment working tanks
The printer can be set two stores with paper of different widths. The operator can make prints of different formats without getting up. Automatic top up the water supports the same state of working solutions and prevents the build-up of crystals.
Automatic digital image correction
DIGITAL ICE technology allows us to identify dust, fingerprints and scratches on the image and automatically fix them.
Amendments to the frame with backlighting
If the object is removed on a bright background, the printer automatically adjust the density for the subject and background.
Correction frames taken with flash
If the subject is "knocked out" vspishkoy, but the background is very dark - minilab adjust the density to-edge sharpness.
Correction of underexposed and overexposed negatives
QSS-2901 automatically detects this combination of brightness and contrast of the image, where the veil kept to a minimum, and the color saturation tends to normal.
Sharpness improving
Software Laboratory pzvolyayut raise or diminish the sharpness of the image at the request of the operator.
Monitor calibration
To configure the full compliance of prints and monitor the color and density, in the minilab used tsvetoanalizator.
Specifications QSS-2901 Digital
Display
17-inch color monitor with adjustable angle
Light source scanner
halogen lamp (30.5 in 370Vt)
Film Formats
135F, 135P,135H, 135HD, 120 (6x4.5, 6x6, 6x7, 6x8, 6x9,), 110, APS.
Film Types
negatives and slides (135, 120, APS), slides in the frame
Negative mask (optional)
135/APS avtommaticheskaya mask, minimum number of frames - 2, transfer format - manual;
120 automatic mask, minimum number of frames - 1;
100 automatic mask, minimum number of frames - 3;
135/APS handmade mask slides in carrier
Printing process
MLVA
Permission
400 dpi
Exposure speed
24,4 mm per sek.
Paper Width
82.5, 89, 102, 114, 117, 120, 127, 130, 152, 165, 178, 203, 210, 216, 240, 254, 279, 305 mm
Length paper
82.5 up to 457 mm
Paper Feed
The system of two cassettes
Cleaning cross-racks
automatic
Dimensions (mm)
(D) 2305 x (W) x 950 (H) 1350 mm
Weight
692kg.
Occupied area
2,24 m2.
Performance QSS-2901 Digital

135 film (24 frames)
Print size
Performance
prints per hour
127 x 89мм (5"x3,5")
~ 1480
152 x 102мм (6"x4")
~ 1050

APS (25 frames)
Print size
Performance
prints per hour
by 89 paper
Mixed C, H, P Formats
900-1000

Digital camera (2 megapixels).
Print size
Performance
prints per hour
127 x 89мм (5"x3,5")
~ 620