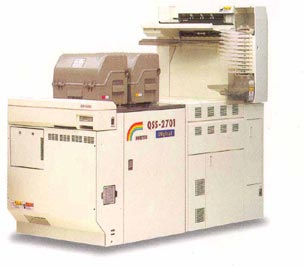 QSS 2711/2701
This system offers consumers a wide choice in terms of media images on input and output. Laboratory as the source of the image takes a negative and a slide 35 - millimeter, APS and 110 film, as well as virtually all types of digital media such as CD and floppy drives, digital camera memory card (PCMCIA). Output image QSS-2711DLS provides both photo paper and on the CD and floppy drives, and even the Internet via Kodak PhotoNet Online.
The system combines advanced software scanning and processing images from a decent, at the same time flexible printing equipment that allows us to achieve high quality inherent in optical systems, along with enormous possibilities of digital imaging technology.
The minilab can be easily configured to specific customer requests.
In developing the system laid absolute compatibility with such devices and technologies as the KODAK Picture Maker, KODAK Picture Preview Center, KODAK Photonet Online.
The software also was designed by KODAK
Scanner:

Desktop film scanner daylight

Image Processor:

Floor Workstation with 17 "monitor
Standard 104-button keypad
Additional 27-button keypad
Barcode reader

Document Formats optical media image:

135 Negative Film
IX240 color negative film
135 positive film (manual feed)
picture - using the KODAK Picture Maker
(120, 220, 120, b / w - in the future)

Scan Resolution:

2048x3072 pixel CCD, 3 color consistently

Performance:

1080 prints per hour with a resolution 2000х3000 pixel (16 bits per color)
1900 prints Chassie resolution 1000х1500 pixel (4 bits per color)

Connecting to the network:

10/100MBit LAN Ethernet connection Workstation and Picture Maker
WAN connection to PhotoNet and to support the teleservice

Lens scanner:

37.8 mm 6 elements, f-/ 4,9 for the negatives
f-/ 6,6 for chrome

Light source scanner:
Image processing:

Work in automatic mode or pre-judge
In both modes provide automatic correction of color balance underexposed negatives and recalculation of the scale of colors for the correction of their dynamic range

Customizable:

Support global settings minilab regarding the scale of colors, density and tone
The support for setting film channels

Image Editing:

Color and density
Zooming and cropping
Increase to 50X
Red-eye correction
Elimination of defects
Reorienting
Flash and contlight correction

Image Format:

Index print (there is a choice type index print)
Frendship print (on one sheet and a large number of couple smaller pictures)
Noteable print (with a white field for the inscription)
Pakage print (many photos on one sheet)

Operating system:
Interface:

1,44 floppy
CD-ROM Drive
ethernet LAN

Archiving:

Backup device (option), connects to port Ultra-SCSI, capable to store about 1000 orders (24 frames at 2000х3000 pixel)

User Interface:

Keypad
3-button mouse
Reader barcode

Monitor:

17-inch adjustable 24-bit color monitor (1280x1024 pixel, full color)

Submission of the film:

automatic frame for 135 th and APS films
manual carrier slides in a frame and 1-2 staffing films

Power supply:
Dimensions:

Scanner: 23 "(L) x23" (W) x16 "(H)
Image Processor: 21 "(L) x15" (W) x23 "(H)
Monitor: 19 "(L) x18" (W) x18 "(H)
System stores: 21 "(L) x15" (W) x23 "(H)

Weight:
Scanner Weight:
Consumption scanner output:
required space:
Parameters of digital printer-processor:
Exposure device:

Print head linear type MLVA, width 12 "

Print Resolution:
Light Source:

Halogen lamp (400 W + automatic dichroic filters)

Formats prints:

3.5" x3.5"-minimum
12"x18"-maximumй
maximum paper width-12"

Paper feeding:

Two paper cassettes
The maximum diameter of the roller 9 "

Length of paper:
Power:
Dimensions printer-processor:
Performance:

5 "x3.5" - 1250 prints per hour
3.5 "x5" - 1000 prints per hour
6 "x4" - 1200 prints per hour
4 "x6" - 860 prints per hour