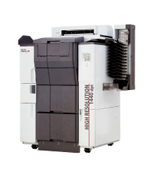 The Noritsu D1005 HR Duplex Inkjet minilab is a compact, high-capacity, 12" printer engineered to meet the changing photo imaging needs of today`s social expression age.
D 1005 HR
Main Features of D1005 HR
---
High-speed printing

950 prints per hour (4"x6")
Prints up to 12" x 36"
Compact design
Duplex printing for photo books, cards, calendars and more
Amazing print quality
Easy Maintenance
Sheet & roll fed
Automatic order sorting
Unique dual magazines
Intuitive processing with EZ Controller
7th generation inkjet technology

The Noritsu D1005 HR allows retailers to deliver amazing quality, reduce costs and increase the number of photo products provided in less space than any other dry duplex minilab in the market. The system is simple to use and efficient for a wide range of retail environments with eco-friendly operation, four ink color system and 4-by-6 inch print capacity of 950 prints per hour and up to 3,800 prints without changing paper. With greater ease of operation, the Noritsu D1005 HR reduces setup and training time, maintaining efficient workflow and letting retailers do more with less, all in a power-packed 11.6 sq. feet of space
The open architecture used by Noritsu allows easy installation and seamless connections with existing on-site equipment and networks.
---
Duplex printing enables you to offer photo books and many other value added services
Just like other printers in Noritsu's product lineup, the Noritsu D1005 HR can make high quality single-sided prints. But when you add the Noritsu D1005 HR's duplex printing ability, this opens the door to a whole new realm of possibilities. In addition to double-sided 4R prints, this printer can also be used to make photo books with double-sided pages, dual-sided business cards, postcards and greeting cards including commonly seen single-sided photo greeting cards as well as the traditional type of greeting cards that are folded and enclosed in an envelope.
This fully automatic system makes it easy to increase your revenue with high quality double-sided value-added prints. All of these products are produced on Noritsu genuine photo paper using Noritsu genuine ink to ensure high quality products with excellent image permanence.
Double-sided value-added photo size variations:
Photo Books
6x6*
8x8
12x12
10x8
A4
Letter
Photo Calendars
4x6
8x8
A4
Letter
Greeting Cards
4x8
10x7
---
Noritsu EZ Photo book Binding System (Sold separately)
To compliment our new dry duplex printer, we will also sell the Noritsu EZ Photo book Binding System (NPB-1), which includes a binder, a creaser and a cutter. The Noritsu D1005 HR and the above-mentioned binding system "NPB-1" give you everything you need to tap into the lucrative personalized photo product market by making attractive photo books with dual-sided pages. The NPB-1 has the advantages of being compact, efficient, safe, clean, and easy to use. A revolutionary gluing system is used to ensure very little or no waste.
---
Attract new customers with unique print sizes and poster size collage prints
With the 12" maximum paper width and variable paper advance technology, the Noritsu D1005 HR can make enlargements in sizes of 12x12", 12x18" and many other sizes right up to 12x36". This enables you to offer products such as poster prints, locker prints, and just about any custom print size you can think of.
---
Beautiful sharp prints with the 6 gradations per dot dye ink system
The new Noritsu D1005 HR uses a 4-color (Yellow, Magenta, Cyan, Black) ink system with 6 gradations per dot to deliver a rich variety of tones and a smooth color portrayal.
In addition, it utilizes a new technology that adjusts the size of the dots when they touch the paper. This enables the individual dots to be output in 5 different sizes and allows for a range of 6 gradations per dot, including a no dot (white) variation. The result is high-speed output of high-quality prints with excellent color saturation and fine gradations.
---
Dye ink is absorbed by the paper
The paper absorbs the dye ink, making it possible to utilize the luster of the glossy paper to produce prints of an excellent glossiness. The Noritsu D1005 HR's prints excel with vivid colors, smooth tones, and a print quality resembling silver halide photos.
---
High grade ink that produces long lasting colors
Prints made with conventional dye ink tend to fade quickly. But the new dye ink of the Noritsu D1005 HR has an improved molecular structure that withstands exposure to light and ozone. Its prints boast excellent light fastness and long-lasting colors.
---
Noritsu`s fastest dry minilab to date
One of the Noritsu D1005 HR's biggest advantages is its compact size. With a footprint of only 0.35 square meters, the Noritsu D1005 HR is one of the smallest high-capacity retail inkjet printers on the market. Its high capacity of 950 prints per hour (4R) lets you increase output without taking up valuable retail selling space. Advantages like these make the Noritsu D1005 HR a powerful tool for success.
---
Use less space to sell more with this compact minilab
The Noritsu D1005 HR can be installed against the wall in 2 directions and its space-saving design makes it easy to install virtually anywhere! With a footprint of just 7.43 sq. feet you`re gaining maximum profit from minimum floor space.
---
Automatic order sorting
There are two print sorter available for the Noritsu D1005 HR, a 4-order print sorter and a 12-order print sorter.
The Noritsu D1005 HR is the first dry minilab in the industry to use LED lights to signify interrupted orders based on order priority. The colored lights signify which tray has the urgent order and which trays have the interrupted order.
---
Dual magazine system supports a huge variety of print sizes
The dual magazine system in Noritsu D1005 HR is the first in the industry to support 2-lane magazines, enables you to load up to 4 paper rolls and with the same surface finish or diffrent surfaces.
---
Dual magazine system supports a huge variety of print sizes
The Noritsu D1005 HR is the only duplex minilab in the industry to produce prints from both roll and sheet paper. Use the sheet paper facility to produce high quality duplex prints for a range of value-added print possibilities.
---
Easy maintenance
Maintenance is a breeze with the Noritsu D1005 HR`s fast ink cartridge replacement in seconds. The 4 color dye ink system results in less solid waste and less inventory management. There are no photo finishing chemicals involvedwith dry systems, which means you do not have to worry about maintaining specified temperatures, handling and disposing solution, or other related troublesome tasks.
---
Simple operation with an intuitive user interface.
EZ Controller software (sold separately) - The EZ Controller takes care of everything from printing to managing the orders. The graphic user interface is easy to use, even for beginners.This software equips the Noritsu D1005 HR with the same functions as QSS digital minilabs, handling everything from print order management to color correction of individual images. The EZ Controller simplifies your system's operation and controls all the devices in your network, such as kiosks, film scanners and CD writers.
---
D1005 HR Specifications:
Printing system:
Inkjet
Print resolution:
720 x 720 dpi
Paper sizes roll:
Width: 3.5", 4" ,5", 6", 8", 10", 11", 12"
Advance length: When the width is 3.5", 4", 5": 3.5" to 18"
When the width is 6", 8", 10": 3.5" to 36">
Paper sizes sheet:
Width: 5" to 12"
Advance length: 7.4" to 25"
Maximum print size:
15" x 36" (roll paper) / 12" x 24.6" (sheet paper)
Paper specifications:
Roll paper: Noritsu inkjet photo paper (semi-glossy/glossy)
Paper thickness: 242µm
Length of paper roll: 328 ft.
Sheet paper: Noritsu recommended paper
Ink specifications:

4 colors of dye ink:
Y (Yellow), M (Magenta), C (Cyan), BK (Black)
Volume: 500 ml per color

Weight:
Printer with 4-order print sorter unit :507.1 lbs.
Printer with 12-order print sorter unit :529.1 lbs.
Power specifications:

AC100-120V/200-240V 1P2W

Rated power capacity:
1400VA or less
Noritsu D1005 HR Maximum Printer Repeat Roll Paper Capacity*
---
| | |
| --- | --- |
| Print size | Prints |
| 5" x 3.5" | 1180 |
| 6" x 4" | 950 |
| 5" x 7" | 639 |
| 10 x 8" | 305 |
| 12" x 8" | 274 |
| 12" x 18" | 127 |
* Calculated according to our criteria. The actual capacity you achieve may vary.