D703 Inkjet Compact Printer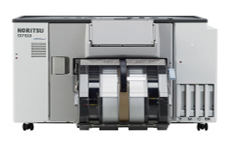 D 703 Inkjet Printer
The D703 inkjet printer gives the user the ability to create a full range of photo products including 4"x6" prints, calendars, greeting cards, locker prints and posters up to 10"x36". An ideal solution for high-volume retailers and demanding studio environments, the D703 offers new features that allow Noritsu customers to maximize their operational productivity and efficiency, and continues the Noritsu tradition of offering expanded profit potential and new revenue streams. For the first time, the D703 supports double roll processing. This key new function gives Noritsu customers the flexibility to simultaneously load different rolls for print size or paper surface variation, or load the same size to ensure printing will continue smoothly even after one roll is depleted.
Main Features of D 703 Inkjet Printer:
Easy maintenance/Easy Installation
Unlike silver halide minilabs, the D703 does not use any chemicals, nor does it produce any waste solution. This means you can replace the paper in a lighted room, and you can start printing almost immediately after flipping on the switch. The D703's tiny footprint and its unique double-stacking ability as well as the absence of chemicals also increase versatility and open new doors to those inside and outside the photofinishing business, as this space-saving machine can be easily installed almost anywhere.
High quality prints with a state-of-the-art dye inkjet system
The D703 uses an advanced type of dye ink to produces crisp images with vivid colors. Automatic dot size control ensures fine gradations with minimal ink consumption. The ink used in the D703 has an improved molecular structure so it is able to withstand light and ozone, thus producing prints that boast excellent image permanence. Inkjet technology was provided by Seiko Epson Corporation.
Double paper roll system
In addition to the internal paper roll, you can also choose to add a second roll to the front of the printer. This extra roll enables you to produce a wider variety of print sizes without having to change the paper. When the paper in one roll is depleted, the printer will automatically begin printing from the other roll if the same paper size is being used for both rolls.
Supports sheet paper
Adding to its versatility, the D703 also supports sheet paper in addition to roll paper. When setting both roll paper and sheet paper, it is possible to automatically switch between output from these two paper types.
Print sorter unit (Option)
The print sorter unit, which holds up to 8 orders, enhances workflow efficiency.
Prints up to 254 x 914mm(10 x 36 inches)
This printer can produce photos in sizes ranging from 3R all the way up to 254 x 914mm (10 x 36 inches), enabling a wide variety of print services. Maximum advance length for systems operating without a RIP PC is 610mm (24 inches).
A capacity of approximately 650 prints per hour for the 4R (152 x 102mm) print size
In addition to its high capacity for 4R prints, the D703 also provides a capacity of approximately 250 prints per hour for 203 x 254mm (8 x10 inch) prints and approximately 195 prints per hour for 254 x 305mm (10 x 12 inch) prints. This high capacity across the board makes the D703 an excellent solution for low to mid volume shops.
No RIP PC required
You can install supplied RIP software in the control PC, eliminating the need for a separate RIP PC.
Operation software "EZ Controller"
The EZ Controller gives you the ability to easily perform many important functions such as Prejudge print, order management, and value-added print creation. Furthermore, this operation software provides additional advantages, such as raw image conversion and advanced image correction with Noritsu's renowned AccuSmart™ technology.
Connectivity/Scalability
The D703 gives you the freedom to configure a network that meets your particular needs, as you can choose to connect a wide variety of consumer terminals, film scanners, CD/DVD writers and other input/output devices, making for a scalable system that allows you to add new services as needed.
D703 Specifications:
Printing system: Piezo inkjet system
Print resolution: 720 x 720dpi 6 gradations per dot (No dot variation [white] + 5 dot sizes)
Maximum print size: 254 x 914mm (10 x 36 inches); 254 x 610mm (10 x 24 inches) when using a configuration without a RIP PC.
Footprint: 0.35 square meters (3.77 square feet)
Processing capacity (Prints/hr):
127 x 89mm (5" x 3.5") Approx. 750 prints/hr
152 x 102mm (6" x 4") Approx. 650 prints/hr
203 x 254mm (8"x 10") Approx. 250 prints/hr
Raj kumar Poddar - [email protected]

September 20, 2023

Buy and Sell

Noritsu Qss green 2 lab prise & cortisone please send me

Raj kumar Poddar - [email protected]

September 20, 2023

Buy and Sell

Wedding album lab parpose
We buy, sell, refurbish and service different brands of such as: