LPS 24 PRO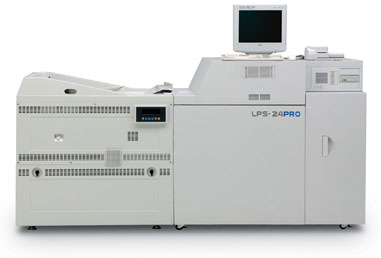 LPS 24 PRO
Main Features of LPS 24 Pro

1.
A variety of paper widths
The LPS-24PRO supports a wide variety of paper widths from 5 inches (127mm) all the way up to 24.5 inches (622mm). The standard maximum print size is 24.5 x 36 inches (622 x 914mm), and with the addition of an option you can make prints up to 24.5 x 100 inches (622 x 2540mm)!
2.
12 inch magazine and 24.5 inch magazine can be loaded
It is possible to load a 12 inch magazine and a 24.5 inch magazine at the same time, enabling you to make various size prints without changing magazines. The 24.5 inch magazine has a handle and castors, making it easy to remove and take to the darkroom.
3.
Can be used as a network computer
Noritsu Quick Access (software), which helps you make prints easily, is available as an option and can be installed in networked computers. The LPS-24PRO can be used as a network printer, receiving print commands from multiple operators.
4.
Can be used in your existing network
We will disclose the interface to enable communication necessary to make prints with your particular system, so you can create your own software for this purpose.
5.
High quality laser engine
The state-of-the-art laser engine produces sharp and beautiful silver halide prints of 300dpi.
Print Size

Paper width
127 to 622mm
12 inch magazine 127, 203, 254, 279, 305mm
24.5 inch magazine 457, 508, 610, 622mm
Paper advance length
When the paper width is 127mm
150 to 457mm
When the paper width is 203 to 305mm
150 to 914.4mm
When the paper width is 457mm or more
200 to 2,540mm (1)

(1) An option is required for advance lengths that exceed 914.4mm.
Input image formats

JPEG (including Progressive JPEG, CMYK Format)
Bitmap (Uncompressed)
TIFF (RGB uncompressed)

Estimated Capacity (prints/hr)

305 x 457mm (12 x 18 inches)
Approx. 51
622 x 406mm (24.5 x 16 inches)
Approx. 56
622 x 508mm (24.5 x 20 inches)
Approx. 46
622 x 914mm (24.5 x 36 inches)
Approx. 27
Capacity calculated according to Noritsu own criteria. The actual capacity you achieve may be different.
Mike - [email protected]

November 11, 2019

Technical Support: Fuji

Hi,

What software do I need to run the DL600 Frontier Printer?

Thanks,

Bablu Mahato - [email protected]

October 24, 2019

Technical Support: Fuji

W2528 B Laser Life

Craig - [email protected]

August 27, 2019

Technical Support: Fuji

Prints are jamming between final cross over and first set of dryer rollers. I can print about 10, and then it jams and stops printing. I have replaced the dryer unit, sorter unit, drive gears on the side of the dryer unit, and the cloth mat in the sorter. Yet it is still occurring. Really would love some advice
We buy, sell, refurbish and service different brands of such as: