D4000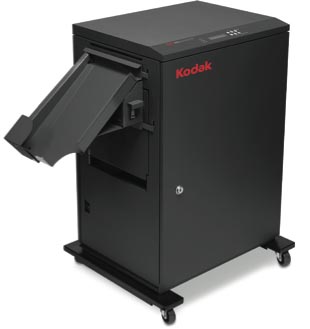 Introducing our new Duplex Photo Printer—a compact duplex printing solution with the exceptional print quality and reliability you`ve come to expect from us. Now you can break free from the 4x6" rut and deliver the fantastic borderless duplex products your customers prefer. KODAK D4000 Duplex Photo Printer is sure to wow them with its rich photographic detail and double-sided printing. Capture their attention with vivid, borderless Premium Double-Sided Photo Books, Calendars and Greeting Cards printed on KODAK Paper for memories that will last a lifetime.
D4000 key features
---
A Lucrative Market – Reap the rewards of a growing market for high-demand premium photo products with this efficient printer.
In Store for More – Drive traffic with D4000`s on-site fulfillment of orders taken in store or online. Compact and flexible, this powerful printer integrates seamlessly with your existing KODAK Picture Kiosks, KODAK Adaptive Picture Exchange (APEX), or stand-alone
PC workstations.
Exceptional KODAK Quality – The D4000 prints rich, bright colors and sharp text on KODAK XTRALIFE Photo Book Paper that lasts a lifetime* and drives customer preference.
Beautiful borderless photo books
products (8x12, 8x10, 8x8, 6x8)
Landscape, portrait and square layouts
Compatible with many binding solutions including wire, staple and glue
Memorable borderless monthly calendars – Up to 8x12 in (20.3 x30.5 cm)
Personalized borderless flat greeting cards
6x8" and 4x8" cards
Landscape and portrait layouts
---
PRINTER SPECIFICATIONS
Printing technology - Thermal dye sublimation
Printing resolution - 300 dpi (continuous tone)
Output sizes - All products are borderless. 8x4in(20.3x10.2cm),8x6in(20.3x15.2cm),8x8in(20.3x20.3cm), 8 x10 in (20.3 x 25.4 cm), 8 x12in (20.3 x 30.5 cm)
Maximum image size: Up to 8 x 12 in. (20.3 x 30.5 cm)
Duplex print speed -84 seconds for an 8 x 12 in (20.3 x 30.5 cm) and 75 seconds for an 8 x10 in (20.3 x 25.4 cm)
Dimensions (Height x Width x Depth): 30.9 in (78.5cm) x 32.5in (82.5cm) x 18.8 in (47.8 cm)
Weight: Does not include media: 151.5 lbs (68.7 kg)
Relative humidity: 20 to 80% non-condensing
Power & Consumption: Voltage: 100 to 240 V AC Frequency: 50/60 Hz Consumption: Less than 5.0 Amps at 100V AC or 2.5 Amps at 240V HC
Operating temperature range: 59-95F (15 - 35C)
Space requirements: Allow 20 in. (50 cm) in front and 10 in. (25.4 cm) at the right of the printer for media changes and routine maintenance. Allow 4 in. (10 cm) space around the printer at top, back, and left sides for optimal performance.
SOFTWARE REQUIREMENTS
Direct connection to KODAK Picture Kiosks requires KODAK Picture Kiosk Software version 5.0 or higher.
KODAK Adaptive Picture Exchange (APEX) requires APEX Software version 5.0 or higher.
PC Connectivity via KODAK Creative Production Software (KCPS) version 5.0 or higher or Windows Driver.
Mohamed K dakowa - coordinate2011@gmail.com

May 09, 2018

Technical Support: Agfa, Konica, Kis, Doli

Dear sirs,

To introduce myself, I am commercial agent in the sub region for the past years working in the corroboration with the national trade union in Cote D'ivoire, Sierra Leone, Guinea – Conakry & Burkina Faso, for an assistance to some of our local importers who need products from abroad, but difficult for them to get in contact the sellers or producers directly. And we also work on commission basis depends on the final arrangements between the sellers and the buyers from our
side.

In this regards, can you please send us full details of your used machines as we have a traders that want to meet with you for face to face final arrangements for the order?.

Upon your confirmation, we will send you the visitor's details for you to contact your Notary or the chamber of commerce to send them your invitation letter for their business visit to your company early next month.

Hope to hear from you soon.

Best regards.
Mr. Dakowa
Commercial Agent
Address: Marcory Sanfil
Abidjan, Ivory Coast. West Africa
Tel: 04 27 69 00225 06/00225 43 62 43 84
Skyp: kedis.kamara Email : coordinate2011@gmail.com / papayo232@gmail.com
Tel: whatsup : 0022504276906

mounir - eng_mmounir@hotmail.com

April 12, 2018

Technical Support: Durst, Chromira, Oce, Kodak, HP, Epson

I got the error mess. Theta 76Error code :#2203
clamp timeout (lift motor cut transport) .
can you plz helpme to solve this problem

Nicoletta - labo@fotolabojob.ch

March 16, 2018

Technical Support: Fuji

Frontier 340
error E-2625
the grave is new
the thermostats have been cleaned
to make it work I start with temperature 30 and I have to raise 5 degrees at a time
what can I check again
in order to solve the problem
thanks for a tip
Nicoletta
We buy, sell, refurbish and service different brands of such as: