DL2100 Duplex Printer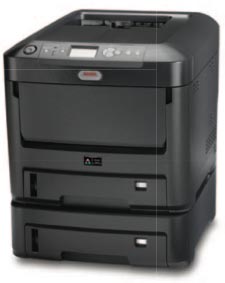 It`s payback time The KODAK DL2100 Duplex Printer is an amazing value. Savvy buyers take note of the modest investment and great profit potential with our new, premium products. We did the math. If you can sell at least two duplex KODAK Photo Books a week, this solution is priced to pay for itself in less than a year.
The quality and choice of designs for Photo Book, Calendar and Greeting Cards you can offer consumers is simply fabulous. Fresh new borders and background designs are included, plus the latest creative options that put your customer in control. We`ve got what you need to grow your onsite premium business:
DL2100 key features
---
KODAK Quality Prints that last a lifetime* – Bright colors and sharp text delivered on papers that we`ve tested with consumers for key attributes that drive preference.
Easy and fun – The award-winning KODAK Picture Kiosk software delivers an intuitive and streamlined workflow plus easy creative options that consumers love.
Speed that delights consumers – Deliver gifts and cards in just minutes. Products are delivered collated and ready to bind.
---
The quality you need to beat the competition
Make no mistake. The KODAK DL2100 is not your average printer. Most competitive printers were really built for standard office paper and output. We`ve designed the KODAK DL2100 to be the best value for onsite duplex photographic applications. There is a big difference. We`ve optimized each component of the KODAK DL2100 printing solution:
KODAK DL2100 Duplex Printer Papers and Card Stock – Deliver the physical characteristics of prints consumers want and Kodak standards demand.
KODAK DL2100 Duplex Printer Toners – Exclusive and unique to Kodak. Provide excellent color reproduction and robust fusing characteristics.
KODAK DL2100 Duplex Printer – Print speed and smooth paper transport that retail solutions demand.
KODAK Image Processing Software – Absolute industry- leading excellence in image management and quality results.

---
Beautiful books for effortless storytelling
KODAK Photo Books make it fast, fun and easy to create a story. Auto layout and our hugely popular "shuffle pictures" features gives your customers the control they love and the speed they demand. Making creative choices and adding text is so streamlined that shoppers easily personalize their story without creating a queue.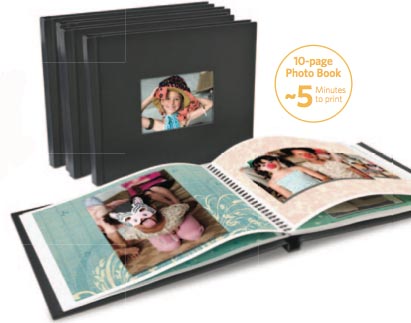 Sizes: 8.5 x 11 inch and A4
Layout: Landscape
Double-sided, bordered pages
Binding: Wire or staple/glue
Unlimited pages (limited only by binding size/style)
Writeable media for personal captions
KODAK DL2100 Duplex Printer Paper — Gloss finish with 148 gsm
---
Customized calendars in minutes
It`s easy to share a year`s worth of memories in minutes. Rich, colorful photos and sharp text make these a standout gift item. Long-lasting, writable media for truly custom creations—a great repeat purchase item.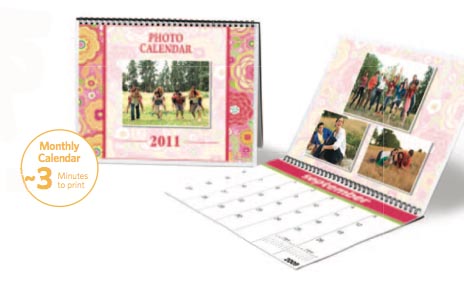 Sizes: 8.5 x 11 inch and A4
Layout: Landscape
Double sided, bordered pages
Binding: Wire bound
Writable media
KODAK DL2100 Duplex Printer Paper — Gloss finish with 148 gsm
---
It`s a booming new business! Instant, personalized KODAK Greeting Cards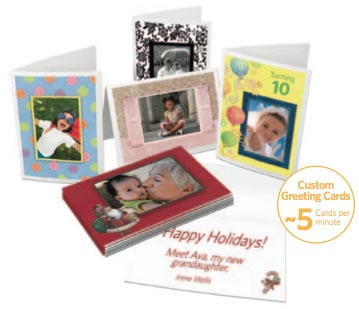 Bring customers back again and again to your store with our new double-sided, folded greeting cards. Fresh designs with artwork on covers and inside will be a bit hit. Priced right to let you enter the onsite card and gifting category with an easy winner. Try sampling this low cost, high value category as a way to introduce your new line of onsite gifts from Kodak.
Size: 4.8x6.8 inch cards w/envelope
Layouts: Landscape or portrait
Double sided, bordered
Writable media
KODAK DL2100 Duplex Greeting Card Paper — Coated, pre-scored, 270 gsm card stock
---
PRINTER SPECIFICATIONS
KODAK DL2100 Duplex Printer- Single Pass LED, 1200x600 dpi, Electro- Photographic Printer
Processing - 700 Mhz, 64 bit, 256 MB memory
Print times - First color print in 11 seconds (cards) 10-page Photo Book ~ 5 minutes Monthly Calendar w/cover (13 pgs) ~ 3 minutes 5 Custom Greeting Cards ~ 1 minutes
DL2100 Dimensions (H x W x D): 50.8 x43.5 x 62.2 cm (20 x 17.1 x 24.5 in.)
Weight: Packed -33 Kg (72.8 lbs.), Unpacked - 31 Kg (68.3 lbs.)
Operating temperature range: 15oto26oC (59oto80oF)
Power consumption: Separate models: 120 VAC or 230 VAC, Energy Star Compliant
KODAK DL2100 Duplex Printer Paper/Gloss—148 gsm, A4 and 8.5x11 in. coated paper, packs of 250 sheets
KODAK DL2100 Duplex Printer Greeting Card Paper—270 gsm, 6.8x9.6 in. coated card stock, pre-scored, 2 packs of 100 sheets each
KODAK DL2100 Duplex Printer Toners—Cyan, Magenta, Yellow, Black
Duplex Photo Books: A4 and 8.5x11 in. sizes
Duplex Calendars: A4 and 8.5x11 in. sizes
Duplex Folded Greeting Cards: 12.2 x 17.3 cm (4.8x6.8 in.)
Relative humidity: 20 to 80%
alain lavoie - alain@galeriedelaphoto.com

August 12, 2017

Technical Support: Noritsu

probleme qss3202 scanner s-02
digital ice erreur 6331-0001
1903-0001
6901-2000
6901-0001

rakesh - rakeshbud2002@yahoo.com

July 27, 2017

Technical Support: Fuji

error messge :an error accurred in the replenisher section error 05912-0

inan orhan - akininan@gmail.com

July 21, 2017

Technical Support: Durst, Chromira, Oce, Kodak, HP, Epson

malatya türkiye
no decoder signal!
We buy, sell, refurbish and service different brands of such as: