Rho 160R - Roll-to-roll UV Inkjet Printer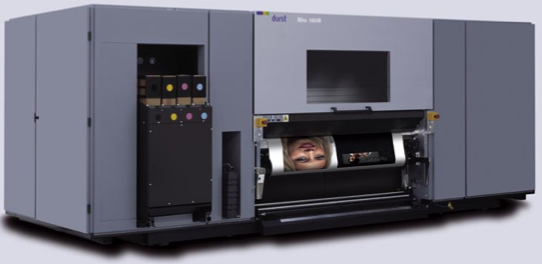 Durst introduces a new, compact high speed roll to roll UV inkjet printer to the market leading Rho range of UV inkjet printers. The Rho 160R is engineered with the same tried and tested tech- nology as other members of the Rho family and offers exceptional productivity, quality and flexibility.
Designed for use with both Rho Roll inks and 3M UV Premium inks, the Rho 160R provides extremely durable and vibrant images for indoor and outdoor applications, which are covered by an MCS warranty for up to 5 years!
Rho 160R key features
---
Advantages
High output speed – up to 65 m2/hr (700 sq ft/hr) in 2 Pass Mode at 400 dpi
400/600 dpi (addressable)
Maximum printing width 157,5 cm (62 in.)
Maximum printing length – unlimited
Durst Rho 160R proprietary user software and RIP based on Linux on-the-fly image processing (scaling, pixel interpolation, corrections, cropping, paneling, dithering)
Unattended printing 24/7
Scotchprint® Graphics brand eligibility
Very good ink adhesion
High flexibility of the ink and conformability of the inks around rivets and corrugations
Fast media changing with min. media waste
4-color CMYK UV-Inkjet Printing System with Upgrade options for 2 spot colors
Eligible to Scotch print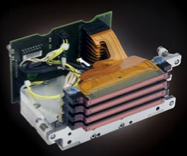 Quadro Array Technology
Durst`s own revolutionary Quadro Array printhead technology achieves the combination of the highest productivity with the finest image quality and is featured in all the Durst Rho UV inkjets.
---
Technical Data
General specifications Power supply:

230/400 VAC ± 10 %, 3 phase + N/50 Hz

Power consumption:
Maximum: 13 KVA; average: 7 KVA Max. amperage per phase: 208 VAC: 32 amp 230/400 VAC: 17 amp

Dimensions:
Width: approx. 505 cm (199 in.) Length: approx. 201 cm (79 in.) Height: approx. 212 cm (83 in.)

Space requirement:
Approx. 7 x 5 m ( 23 x 16 ft.)

Weight:
approx. 2000 kg (4400 lb)

Safety standards:
GS, CB, NRTL

Printing specifications Printing system:
Patented Durst Roll to Roll transport system with Quadro® Array-Technology

Resolution:
400/600 dpi (adressable) 800/1200 dpi (apparent)

Finish:
no finish necessary

Colours:
Rho 160R: CMYK

Inks:
3M UV 2700 Premium Ink, vibrant UV-curing, pigmented inks for indoor and outdoor applications Solvent free (low VOC). The Rho 160R can also be ordered with the alternative Durst Rho Roll Ink.
Software/RIP:
Durst Rho 160R user software and RIP based on LINUX with on-the-fly image processing for very fast processing with minimum storage capacity occupation on the hard disk.

Productivity User selectable in 5 passes: pass 2 to pass 6 Rho 160R-8: Up to approx. 26 m2/h (280 sq.ft./h) in 2 Pass Mode at 400 dpi Rho 160R-16: Up to: 65 m2/h (700 sq.ft./h) in 2 Pass Mode at 400 dpi

Printing modes:
Colour, gloss/matte, black and white, "backlit"

Front-end workstation Type:
LINUX Worstation

Operating system: Pre-installed RedHat Enterprise Linux WS EM64T

Monitor:
HP TFT 19" Monitor L1955

Network Interface:
Ethernet 100/1000 Mbit

Ink supply:
Continuous ink supply with 10-litre ink reservoirs, refillable during operation for large print processes. Refill ink in 5-litre non-returnable containers, easy disposal in collapsed condition, avoiding pollution to the machine and the environment.
Printing specifications Media types:
Wide range of all uncoated and coated 3M media types and other media types with similar characteristics.
Maximum printing width:
Up to 1575 mm (62 in.) with border and no edge to edge option.
Max media weight:
Limited only by maximum outer diameter of supply roll and/or max. weight.
Lower position 1: approx. 35 cm up to 200 kg (445 lb. with pneumatic axle (media feeding side) and with optional accessory at the take up side Rho Axle Pneu 76 74 to 82 mm (2.9 to 3.2 in.)
Upper position: approx. 25 cm (9.8 in.) up to 35 kg (77 lb.)
Max. medium thickness:
0.15 mm up to 2.5 mm
Medium cutoff:
Approx. 40 cm (16 in.) at the leading edge
Media cutting:
Mechanical guide for manual cutting of the roll
Location requirements: Maximum height:
2,400 m (8,000 ft) above sea level
Temperature range:
+15 °C to +30 °C (+59°F to 86°F) non-condensing
Relative air humidity:
25 - 80 %, non-condensing
Mohamed K dakowa - coordinate2011@gmail.com

May 09, 2018

Technical Support: Agfa, Konica, Kis, Doli

Dear sirs,

To introduce myself, I am commercial agent in the sub region for the past years working in the corroboration with the national trade union in Cote D'ivoire, Sierra Leone, Guinea – Conakry & Burkina Faso, for an assistance to some of our local importers who need products from abroad, but difficult for them to get in contact the sellers or producers directly. And we also work on commission basis depends on the final arrangements between the sellers and the buyers from our
side.

In this regards, can you please send us full details of your used machines as we have a traders that want to meet with you for face to face final arrangements for the order?.

Upon your confirmation, we will send you the visitor's details for you to contact your Notary or the chamber of commerce to send them your invitation letter for their business visit to your company early next month.

Hope to hear from you soon.

Best regards.
Mr. Dakowa
Commercial Agent
Address: Marcory Sanfil
Abidjan, Ivory Coast. West Africa
Tel: 04 27 69 00225 06/00225 43 62 43 84
Skyp: kedis.kamara Email : coordinate2011@gmail.com / papayo232@gmail.com
Tel: whatsup : 0022504276906

mounir - eng_mmounir@hotmail.com

April 12, 2018

Technical Support: Durst, Chromira, Oce, Kodak, HP, Epson

I got the error mess. Theta 76Error code :#2203
clamp timeout (lift motor cut transport) .
can you plz helpme to solve this problem

Nicoletta - labo@fotolabojob.ch

March 16, 2018

Technical Support: Fuji

Frontier 340
error E-2625
the grave is new
the thermostats have been cleaned
to make it work I start with temperature 30 and I have to raise 5 degrees at a time
what can I check again
in order to solve the problem
thanks for a tip
Nicoletta
We buy, sell, refurbish and service different brands of such as: